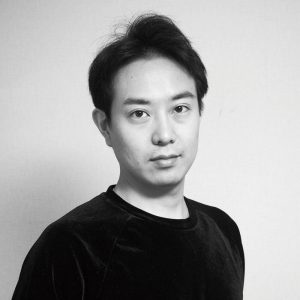 Born in Fukuoka in 1986.
Tokyo University of the Arts and Music, M.A, Fine Art Painting.
Held numerous solo exhibitions including "Wave - Life and Death" at Chinese American Arts Council / NY in 2015, "Vortex" at Resobox / NY in 2016, "Waterfronts" at Resobox / NY in 2017, "Far the Horizon of Ocean and Heaven Is Blue" at Nihombashi Mitsukoshi Main Store / Tokyo in 2018, "Still Alive" at Takashimaya Shinjuku / Tokyo in 2020.
Participated to various group exhibitions and art fairs including "Evolving Traditions" at Japan Information & Culture Center / Washington, D.C. in 2018.
Designed the CD Jacket of "Same Thing" (Gen Hoshino).
Works
After graduate school, I went lived in the US starting in 2013 and exhibited work in the US with a focus on New York as well as places like Japan, France, Poland, India, South Korea, China, and Taiwan.
From late 2019 onwards I changed my base to Kyoto.
Through my high school experience of graffiti art and my university experience of improving reproduction of classics and studying Nihonga, I'm seeking the possibility of the new type of representational painting by my original way of blending traditional Japanese painting materials and technique with modern materials like acrylics and spray paint.
By using "History" and "classics" as motif, I'm creating mainly paintings, and also produce other media including film and installation art, with themes such as, "the things of nature," and "life and death."
PROFILE
1986 Born in Fukuoka
2013 Tokyo University of the Arts and Music, M.A, Fine Art Painting
Solo Exhibitions
2015 Somewhre hasn't been here will be here (Minnano Gallery / Tokyo)
2015 Wave - Life and Death (Chinese American Arts Council / New York)
2016 Vortex (Resobox / New York)
2017 Waterfronts (Resobox / New York)
2018 Far the Horizon of Ocean and Heaven Is Blue (Nihombashi Mitsukoshi Main Store / Tokyo)
2020 Kenshotoutetsu (Matsuzakaya Nagoya / Aichi)
2020 Still Alive (Takashimaya Shinjuku / Tokyo)
2020 Fukkyou (Daimaru Tenjin / Fukuoka)
Group Exhibitions
2008 the-six 2008 (Hillside Terrace / Tokyo)
2009 the-six! 2009 (The Artcomplex Center of Tokyo)
2009 biotope (Gallery Forest / Tokyo)
2010 Exhibition of Teruhisa Kitahara's Collection (Mori Arts Center Gallery / Tokyo)
2011 GTS Art Project "Exhibition Of The Sumida River's Interest 2011" (Sumida Park Riverside Gallery / Tokyo)
2011 Nakanojo Biennale (Gunma)
2011 Asian Students and Young Artist Art Festival (Korea)
2011 SOTTEN (Hillside Terrace / Tokyo)
2011 Next Art (The Asahi Shimbun Company / Tokyo)
2012 GTS Art Project "Exhibition of The Sumida River's Interest 2012" (Sumida Park Riverside Gallery / Tokyo)
2013 The Drawings (Minnano Gallery / Tokyo)
2013 The Next Generation's Eleven (Gallery Kasagi / Kanagawa)
2013 Minnano Gallery 2nd Exhibition (Minnano Gallery / Tokyo)
2013 opening exhibition (Minnano Gallery / Tokyo)
2013 Exhibition of Teruhisa Kitahara's Collection (Nihombashi Takashimaya / Tokyo)
2013 A Selective Exhibition Of Graduation Works (Station gallery / Ibaraki)
2013 SOTTEN2013 (Hillside Terrace / Tokyo)
2014 The Journey about the artist's identity Yuki Ideguchi × Yohei Sugita (Minnano Gallery / Tokyo)
2014 INDIA–JAPAN ASSOCIATE ART EXHIBITION(STUDIO ART GALLERY / India)
2014 The Exhibition of Selected Japanese Artists (galerie Mona Liza / Paris)
2014 The new year exhibition (Gallery Kasagi / Kanagawa)
2014 absorb their works sort of social sculpture (Bushwick Open Studios 2014 / New York)
2015 Holiday Art Show (Tenri Cultural Institute / New York)
2015 Exposition Contemporaine d'artistes Japonais (Galerie Etienne de Causans / Paris)
2015 October art exhibition (OSSAM gallery / New York)
2015 Mystique (International Center of CCCS / New York)
2015 The 20th JAA Art Exhibition of Japanese and Japanese American Artists in New York (Japanese American association)
2015 SUMMER: Gallery & Guest Artist (Prince street gallery / New York)
2015 Jecoration (J-collabo / New York)
2016 Light Year 14: Japan Parade (the Manhattan Bridge / New York)
2016 Kumamoto, Japan and Ecuador 2016 Relief Art Event (Gallery 128 / New York)
2016 The 21st JAA Art Exhibition of Japanese and Japanese American Artists in New York (Japanese American association)
2016 ANOTHER JAPAN & NEXT JAPAN (The Nippon Gallery / New York)
2016 JART6TH (WAH Center / New York)
2016 The Great Wave: Contemporary Talents of Japan (Ronin Gallery / New York)
2016 Malarski Sympozjum Kultur Lokalnych (Galeria Pod Piątką / Poland)
2016 Marine Day Arts Festival (ONAHAMA OCEAN HOTEL / Fukushima)
2016 MUSLAB 2016 (Ciudad de México / Mexico)
2016 JAANY's 44th Annual Exhibition (Tenri Cultural Institute / New York)
2016 AArt (Shanghai)
2017 Japanese Emerging Artists Exhibition (WAH Center / New York)
2017 AArt (Shanghai)
2017 Re: OPEN (Minnano Gallery / Tokyo)
2017 Collective Memory (Cloud Gallery / Taiwan)
2017 Art exhibition with bone (Isetan Shinjuku Store / Tokyo)
2017 PEACE 2017 (Medialia Gallery / New York)
2017 Contemporary Talents of Japan 2017 (Ronin Gallery / New York)
2017 The Clouds (art space tetra / Fukuoka)
2017 The Art of Japan NOW, with the Past (Tenri Cultural Institute / New York)
2017 The Emperor's Birthday Reception (Embassy of Japan in the U.S.A.)
2018 Year End Flash Sale (YiCollecta / Taiwan)
2018 Art on Paper (Pier 36 / New York)
2018 Evolving Traditions (JICC / Washington, D.C.)
2018 Contemporary Talents of Japan 2018 (Ronin Gallery / New York)
2018 Artglorieux Selection (Artglorieux Gallery of Tokyo)
2018 Bash + Benefit Auction (Japan Society / New York)
2019 -NY・TRN・TYO- NEXT STAGE Exhibition (Ginza Mitsukoshi / Tokyo)
2019 Japanese painting, Western painting, Craft Exhibition (Matsuya Ueno / Tokyo)
2019 Yuki Ideguchi × Cyoko Tamai (Artglorieux Gallery of Tokyo)
2020 -Nouvelle Génération- (Daimaru Tokyo, Daimaru Shinsaibashi, Artglorieux Gallery of Osaka)
2020 Field of Now 2020 (Ginza Yokyo Hall / Tokyo)
2020 The 10th SHUBI exhibition (SOGO Chiba)
2020 Relay20/ Fourth round (YiCollecta / Taiwan)
Art Fair
2014 THE ART FAIR +PLUS-ULTRA 2014 (Spiral / Tokyo)
2016 Art Busan (Bexco Exhibition hall 1 / Korea)
2017 Seattle Art Fair (CenturyLink Field Event Center / Seattle, Washington, D.C.)
2018 Art Fair Tokyo (Tokyo International Forum)
2019 Affordable Art Fair Hong Kong(Convention and Exhibition Centre / Hong Kong)
2019 Summer art fair (Daimaru Tokyo)
Award
2012 The Mitsubishi Corporation Art Gate Program scholarship
2015 The Japan Foundation
2015 The Asahi Shimbun Foundation
2016 海の日芸術祭最高位賞
2016 末村賞(JANNY)
2018 YOSHINO GYPSUM ART FOUNDATION
Media
2013 Tenshin
2018 "Hokusai: Beyond the Great Wave" (British Museum presents: Hokusai)
Collection
"M .G" (Minnano Gallery / Tokyo)
Mr.Gen Hoshino EP "Same Thing" Artwork
ONBEAT vol.13 features Yuki Ideguchi