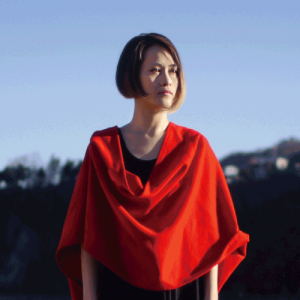 Born in Kanagawa.
Held numerous solo exhibitions including "Symbiosis" at Gallery MUMON / Tokyo in  2019; "Impartial Observer" at Kiyoshi Art Space / Tokyo, "Cycle of Transformation" at  Roppongi Hills A/D Gallery / Tokyo in 2020.
Participated in various group exhibitions and art fairs including "Outsider Art Fair" in Paris in 2018; "Art Fair Tokyo," "Art Central" in  Hong Kong, "Art Beijing" in 2019; "Ran-Syou-Hou-Syuu" at Gallery MUMON / Tokyo in 2019, 2020, 2021; "Jyunin-toiro" at Kiyoshi Art Space / Tokyo in 2020.
WEB twitter Instagram facebook Breakzenya YouTube
Works

In pursuit of the theme, "Awe, Life and Death, Cycle," my works recreate mythical beasts by observing them from a contemporary perspective.
I see the world as a "circulating" phenomenon and wonder what we could do to pass down a good flow to the next generation.
In Observer Effect*-Hakutakuyama- I portrayed the divine beast, Hakutaku, as the observer of the world and a symbol of multifaceted perspective and thinking.
Cycle of Transformation is a series that was inspired by the late-Edo ukiyo-e painting, A Beast Known as Kotobuki, by Tonamisai Shigemitsu.
ーfeebee *Observer Effect: Phenomenon of changing behavior when being watched
PROFILE
Solo Exhibition
2011 Modern Japan (Sotetsu Gallery / Yokohama)
2012 Traveling exhibition "Modern Japan" (Galerie de Printemps / Tokyo)
2012 Traveling exhibition "Modern Japan" (Kinokuniya Gallery / Tokyo)
2019 Symbiosis (Gallery Mumon / Tokyo)
2020 Impartial Spectator (Kiyoshi Art Space / Tokyo)
2020 Cycle of Transformation (Roppongi Hills A/D Gallery / Tokyo)
Group Exhibition
2015 TENGAI 2.0 (AD Gallery / Tokyo)
2016 Ghost Gallery (Vanilla Gallery / Tokyo)
2016 TENGAI 3.0 (hpgrp Gallery NY / New York)
2017 TENGAI 3.0 (hpgrp Gallery / Tokyo)
2018 XENOLITH (Gallery LJ / Paris)
2019 Enyu Sandai (hpgrp Gallery Tokyo / Tokyo)
2019 Ran-Syou-hou-syuu1.2 (Gallery Mumon / Tokyo)
2020 Ran-Syou-hou-syuu 4 (Gallery Mumon / Tokyo)
2020 Jyunin-toiro (Kiyoshi Art Space / Tokyo)
2021 RAN SYO HOU SHU(Gallery Mumon / Tokyo)

Art Fairs
2011 Red dot art fair 2011 (Miami, USA)
2017 Selected Art Fair "Shu-Shu-Shu-Show" (Spiral Garden)
2018 Art Hotel Tokyo
2018 Art Fair Tokyo
2018 Outsider Art Fair (Paris)
2019 Art Fair Tokyo
2019 Art Beijing
2019 Art Central Hong Kong
Collection
2006 The Art of feebee (editions treville)
2012 "The Art of feebee2" First revised edition (editions treville)
ONBEAT vol.12 and vol.14 features feebee