・182.0×72.7cm
・India ink, Pigment, Suihi-enogu, Silver leaf, Tree Panel
・2020
I see the world as a "circulating" phenomenon and wonder what we could do to pass down a good flow to the next generation.
In Observer Effect*-Hakutakuyama- I portrayed the divine beast, Hakutaku, as the observer of the world and a symbol of multifaceted perspective and thinking.
Cycle of Transformation is a series that was inspired by the late-Edo ukiyo-e painting, A Beast Known as Kotobuki, by Tonamisai Shigemitsu.
ーfeebee *Observer Effect: Phenomenon of changing behavior when being watched
feebee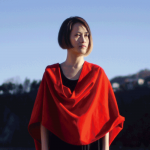 Born in Kanagawa.
Held numerous solo exhibitions including "Symbiosis" at Gallery MUMON / Tokyo in  2019; "Impartial Observer" at Kiyoshi Art Space / Tokyo, "Cycle of Transformation" at  Roppongi Hills A/D Gallery / Tokyo in 2020.
Participated in various group exhibitions and art fairs including "Outsider Art Fair" in Paris in 2018; "Art Fair Tokyo," "Art Central" in  Hong Kong, "Art Beijing" in 2019; "Ran-Syou-Hou-Syuu" at Gallery MUMON / Tokyo in 2019, 2020, 2021; "Jyunin-toiro" at Kiyoshi Art Space / Tokyo in 2020.
WEB twitter Instagram facebook Breakzenya YouTube
Works