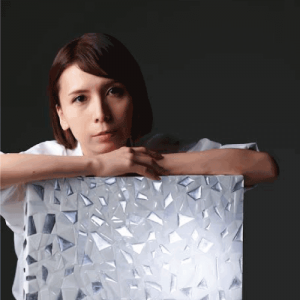 Born in Chiba in 1984.
Graduated from Joshibi Art University, majored in Nihonga in 2007.
Held numerous solo exhibitions including "New Japanese Painting which ties Japan and Central Asia" at Chibagin Himawari Gallery / Tokyo, "Beauty of Japan" at The Museum of the First President of the Republic of Kazakhstan in 2014, "Destination of Pain / Sadness Breeding" at Renaissance Atyrau Hotel / Kazakhstan in 2016, "The Secret garden" at Yorozu Gallery in 2017, "The world and I of Space, Plants" at Ginza Mitsukoshi / Tokyo in 2019.
Participated to various group exhibitions including "Art Festival in Toront" in Canada, "Art Fair Tokyo," "Art Expo Malaysia."
WEB twitter Instagram facebook Breakzenya YouTube
Works
I have mostly worked in the nihonga format, but since last year I changed to a mixed media style with acrylics and natural minerals.
My current works symbolize the relationship between nature and people through patterns.
I make paintings that depict the "current state" of nature and people, two elements with a long history of coexistence, by appropriating nature and artificial shapes through a lens of fragmentation and reconstructing them as abstract patterns, Amber, a natural resin fossil, has the nuance of "eternal time."
In the piece appearing here, "Links -Square-," I symbolically expressed "amber" and "present time" by sealing aluminum foil in synthetic resin.
I want to continue depicting the essence of things without being caged to any fixed concepts existing within myself.
PROFILE
1984 Born in Chiba
2003 Graduated from Joshibi High School of Art and Design, Tokyo, Japan
2007 Graduated from Joshibi University of Art and Design, Department of Fine Arts, majoring in Japanese painting
Solo Exhibition
2009 First Solo Exhibition (Gekkoso Gallery / Tokyo)
2012 Kachoga -SAKURA- (Dorado Gallery / Tokyo)
2013 Kochiikusei (Yorozu Gallery / Tokyo)
2013 Lifes in Asia (Isetan Urawa Store / Saitama)
2013 Traditional Beauty (Ginza Mitsukoshi / Tokyo)
2014 Japanese paitings which bridge Janan and Central Asia (Chibagin Himawari Gallery / Tokyo)
2014 Solo Exhibition (The Museum of the First President / the Republic of Kazakhstan)
2015 Solo Exhibition at Japanese Festival in Almaty (Central State Museum / the Republic of Kazakhstan)
2016 Shinka (Art Fair Tokyo)
2016 Destination of Pain/Sadness Breeding (Renaissance Atyrau Hotel / the Republic of Kazakhstan)
2017 Loves and Girls (Ginza Mitsukoshi / Tokyo)
2017 The Secret Garden (Yorozu Galler / Tokyo)
2019 The world of I and Space and Plants (Ginza Mitsukoshi / Tokyo)
Group Exhibition
2008 Mameko Endo and Tomoko Hokyo (Gekkousou Ginza / Tokyo)
2008 WOMEN Painting (J-trip art gallary in Ginza / Tokyo)
2008 Yubi 2008 (Tower Hall Funabori / Tokyo)
2010 Yubi 2010 (Tower Hall Funabori / Tokyo)
2010 Exhibition of Art Imagination (NHK gallary / Tokyo)
2011 Exhibition of Light (Ginza Gionishi / Tokyo)
2011 Group Exhibition (Dorado Gallary / Tokyo)
2011 Charity Exhibition for Great East Japan Earthquake (Artcomplex Center / Tokyo)
2011 Charity Exhibition for Great East Japan Earthquake (Artcomplex Center / Tokyo)
2011 Charity Exhibition for Great East Japan Earthquake "THANK YOU Exhibition" (Dorado Gallary / Tokyo)
2011 Group Exhibition by graduated students from Joshibi university of art and design (Artcomplex Center / Tokyo)
2011 Yubi 2011 (Tower Hall Funabori / Tokyo)
2011 Hyakka Ryoran (Artcomplex Center / Tokyo)
2011 Duo Exhibition "Sangaten" (Ginza Ougiya / Tokyo)
2011 Art Festival (Toront)
2011 Young Japanese Artists in 2011 (New York)
2012 Duo Exhibition "Sangaten" (Ginza Gekkousou / Tokyo)
2012 El debutante URAWA in 2012 (Isetan Urawa Store / Saitama)
2012 Women artists selected by Fuyuhiko Yamamoto (Mitsukoshi Ginza / Tokyo)
2012 Adesugata (Gallary Shorewood / Tokyo)
2012 URUTORA 005 (Spiral Garden / Tokyo)
2013 Shunshouikkoku2 (Gallary Uehara / Tokyo)
2014 Hanayagi no iro (Isetan Shinjuku Store / Tokyo)
2014 Duo Exhibition "Sangaten (2nd)" (Gallary Shorewood / Tokyo)
2014 Duo Exhibition "Sangaten (2nd)" (Gyouganji / Chiba)
2015 Duo Exhibition "Hanayagi no Iro" (Isetan Shinjuku Store / Tokyo)
2015 Group Exhibition at 100th aniversary of foundation of Joshibi junior / high school of art and design (Ueno Royal Museum / Tokyo)
2016 New Year Japanese Painting Exhibition (Artcomplex Center / Tokyo)
2016 Seiseikai (Takashimaya Yokohama, Takashimaya Osaka)
2017 Seiseikai (Takashimaya Yokohama, Takashimaya Kyoto, Takashimaya Osaka)
2017 Break Zenya (Bunkamura Gallery / Tokyo)
2018 Seiseikai (Takashimaya Yokohama, Takashimaya Kyoto, Takashimaya Osaka)
2018 Grouo Exhibition (Nihombashi Mitsukoshi Main Store / Tokyo)
2018 Duo Exhibition "LIVES" (Isetan Shinjuku Store / Tokyo)
2018 Christmas Art session (Takashimaya Yokohama)
2019 "Bijinga Zukushi 2nd" A book launch Exhibition (Art Morimoto Gallery / Tokyo)
2019 Art Expo Malaysia
Awards
2007 "Kato Nariyuki Memorial Award" as valedictorian of Joshibi university of art and design (Japanese painting department)
2009 Award in exhibition by Tokyo art center
2010 "Painting selected by musicians award" in exhibition by Dorado International Artists Associations
2011 "Sakura Award" in 22nd Garyusakura Japanese Painting Exhibision
2016 The 30th anniversary of the Chernobyl accident, the 2017 Astana Expo Memorial "Internal Artist Competition" 3rd place
collaboration
2017 Executed Seventeen Ceiling Paintings out of One hundred sixty of Kyakuden (reception hall) in Shoujuin Temple, Ujitawara town, Kyoto
ONBEAT vol.12 features Tomoko Hokyo