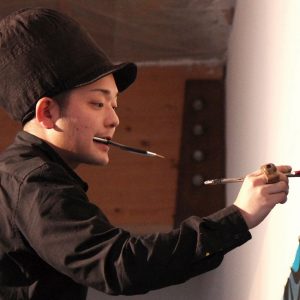 Born in Nagano.
Held numerous solo exhibitions including "Paintings from NY" at Ronin Gallery in 2016, "MONO" at Museo Taller Luis Nishizawa / Mexico in 2017, "Hazamamono" at Ain Soph Dispatch / Aichi in 2019, "mono -Resonance of Body and Sprit-" at Matsuzakaya Nagoya Store / Aichi in 2020.
Participated to various group exhibitions and art fairs including "-Rin- Nihombashi Mitsukoshi Art Fair" in Tokyo, "LA Art Show" at Los Angeles Convention Center in 2019.
Donated a big votive picture to Zenkoji Temple in 2019.
His work is owned by Azumino Municipal Museum of Modern Art, Toyoshina.
WEB twitter Instagram facebook Youtube-1 Youtube-2
Works
By integrating traditional Japanese ideology and sensibility with modern ideas and energy indigenous to a specific land or space, I have been painting in search for the 'something' that is hidden inside all things under the sun.
When creating, I am always conscious about the 'something' that dwells in my painting materials and tools.
According to one account, the word 'mono (something)' used to be equivalent to 'reikon (soul)' in ancient Japan.
I believe that 'reikon,' like the myriads of gods, is shapeless and exists at the core of Japanese people's fundamental sense as a spiritual support or an object of faith.
With the presence of such 'mono / reikon' at the core of my artistic philosophy, my recent series of paintings feature onomatopoeia.
PROFILE
Born in Nagano.
Solo Exhibition
2015 Solo Exhibition (Gallery 82 / Nagano)
2016 Paintings from New York (Ronin Gallery)
2017 not one tree HAYASHI (Le Local Théâtre / Paris)
2017 Solo Exhibition (Ain Soph Dispatch / Aichi)
2017 MONO (Museo Taller Luis Nishizawa / Mexico)
2018 Yaworamono(Park Hotel Tokyo)
2019 mono (Matsuzakaya Nagoya / Aichi)
2019 Hazamamono (Ain Soph Dispatch / Aichi)
2020 mono (Matsuzakaya Nagoya / Aichi)
2020 Spirit of the Floating World(Ronin Gallery / New York)
Group Exhibition
2014 N-ART vol.4 (Galleria Omotesando / Nagano)
2015 "common" with Armando Gomez Martinez (from Mexico) and Fred Martin (from France) (gallery Hanagura / Nagano)
2016-2019 Contemporary Talents of Japan (Ronin Gallery / New York)
2017 Danielle et OZ (à l' Atelier de Danielle / Paris)
2018 Art Next 3 (Denkibunka Kaikan / Aichi)
2018 Shinbism 2 (Azumino Municipal Museum of Modern Art, Toyoshina / Nagano)
2020-2021 Inspi(Park Hotel Tokyo)
Art Fair
2017, 2019 ART in Park Hotel Tokyo (Park Hotel Tokyo)
2018-2019 art on paper (Pier 36 NYC / New York)
2018-2020 ART NAGOYA (Hotel Nagoya Castle / Aichi)
2019 LA Art Show (Los Angeles Convention Center)
2019 Rin (Nihombashi Mitsukoshi Main Store / Tokyo)
2020 Art Fair Philippines (The Link Ayala Center Makati)
Award
2016 "RONIN-GLOBUS ARTIST IN RESIDENCE PROGRAM" The best award prize
2020 "Hoshino Resort × Avex Group present: CREATORS WALL" Winning a prize
Collection
2019 Azumino Municipal Museum of Modern Art, Toyoshina (Nagano)
Dedication
2011 Large Ema (Takei Shrine / Nagano)
2013 Large Ema (Chitose no Miya / Nagano)
2016 Large Ema (Tofukuji Kannondo Temple / Nagano)
2019 Large Ema (Zenkoji Temple / Nagano)
Live Paint and Performance
2010-2019 Performance "Matsuru" (Ninjitei / Niigata)
2014 Performance "Fresh Winds - Art Festival International Biennale" with Samuel Guibout and Alexandre Ayed (France, Iceland)
2016 Live Paint "Contemporary Talents of Japan" (Ronin Gallery / New York)
2016 Live Paint "Hotel Arts Festival" (Park Hotel Tokyo)
2017 Performance "not one tree HAYASHI" with Claire de Monclin and Antonio Gallego (France, Le Local Théâtre)
2017 Performance "MONO Oz-Yamaguchi Keisuke Solo Exhibition" (Museo Taller Luis Nishizawa, Toluca, Mexhico)
2018 Live paint "HIMONOYAMONO" (Park Hotel Tokyo)
2018 Performance "SHIMBISM 2" (Azumino Municipal Museum of Modern Art, Toyoshina / Nagano)
2019 Performance "Collusion" with Komatsu Dai (Pub Arco / Aichi)
ONBEAT vol.13 features Oz-Keisuke Yamaguchi