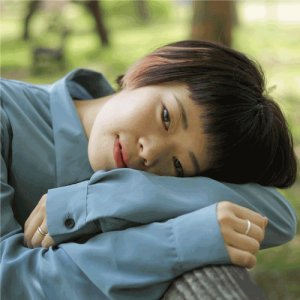 Born in Saitama in 1991.
Graduated from Joshibi University, majored in Nihonga.
Held numerous solo exhibitions including "Hanakotoba" at GUM Omotesando / Tokyo in 2019.
Participated to various group exhibitions held in departments stores including at Nihombashi Mitsukoshi Main Store, Ikebukuro PARCO, Isetan Shinjuku Store.
Also participated to numerous art fairs including Art Fair Tokyo 2019.
Won many prizes. Designed many book-covers and collaborated with glasses brand "VioRou," fashion brand "0658."
WEB twitter Instagram facebook Breakzenya YouTube
Works
Since childhood I have been attracted to creating something from nothing, and that is still true.
I started to feel emptiness in the drawing of real things, and now I draw the "fluctuation surfacing in my heart" as "forms that do not actually exist."
This yearning for unreal forms could be an effort to search for the "pure essence" that only exists there.
I create art by layering pencil vertical strokes over and over.
This monochromatic world is limited in technique as well as color, and does not exude a flashy presence, but has a solid core.
It is because the elements are few that there is no muddiness.
It heightens the purity of my image and imbues my works with a unique texture and mood.
I want each viewer to experience their own unique emotional reaction, like kindness, sadness, or humor.
https://youtu.be/5D3FaL885hw
PROFILE
1991 Born in Saitama
Graduated from Joshibi University, majored in Nihonga.
Solo Exhibition
2012 to live (Ishihara-Seibido Gallery / Saitama)
2014 Things Carved in Loss (space2*3 / Tokyo)
2015 Solo Exhibition (Caffe & bar PONTE / Saitama)
2016 ここに在る。(space2*3 / Tokyo)
2017 Wish (SOZO HARE&MAKE / Tokyo)
2017 あなたへ。(Gallery Tomo / Tokyo)
2018 ANOHINOKOTO (Isetan Urawa Store / Saitama)
2018 A Silent Body. In Other Words. Absolute truth (Kiyoshi Art Space / Tokyo)
2019 丁子紅子日本画展「はなことば。」 (GUM Omotesando / Tokyo)
Group Exhibition
2014 OPEN Commemorative Artist Piece Exhibition@Mitsui Art (space2*3 / Tokyo)
2014 KENZAN 2014(Tower Hall Funabori / Tokyo)
2014 NEW ARTIST (Cafe' てぃ~えむ / Tokyo)
2014-2015 Lots of Sheep (Aoyama Art Square / Tokyo)
2015 Power of Art (Isetan Shinjuku Store / Tokyo)
2015 Exhibition of small pieces by artists@Mitsui Art (space2*3 / Tokyo)
2015 INTRO3-Young artist exhibition selected by collector Fuyuhiko Yamamoto- (The Artcomplex Center of Tokyo)
2015 Hanging scroll-INTRO3- (The Artcomplex Center of Tokyo)
2015 Flower&Animal (Ginza Mitsukoshi / Tokyo)
2015 Japan Modern Naive Art Society Exhibition (Ginza Art Hall / Tokyo)
2015 Japan Modern Naive Art Society Exhibition, Award winners' Exhibition (Art Space Ryabina / Tokyo)
2015 Profile of your thoughts (art Turth / Kanagawa)
2015 KENZAN 2015 (Aoyama Art Square / Tokyo)
2015 Feel the Summer Breeze (Hakkendo Gallery / Tokyo)
2015 Young Artist Whirlwind Art Art Art (Matsuzakaya Nagoya / Aichi)
2015 WOMAN (ASAGI ARTS / Tokyo)
2015 Japan Modern Naive Art Society Exhibition, Selection exhibition (Ginza Art Hall / Tokyo)
2015 50 Faces (REIJINSHA GALLERY / Tokyo)
2015 Jyo・She・Ryoku2015, Art Exhibition (Odakyu Department Store Shinjuku / Tokyo)
2015 奏でるアート (Hakkendo Gallery / Tokyo)
2016 Power of Art 2016 (Isetan Shinjuku Store / Tokyo)
2016 New Year Exhibition (Nagoya Sakae Mitsukoshi / Aichi)
2016 チョコっとアート展 (Isetan Shinjuku Store / Tokyo)
2016 MITSUKOSHI ART CUBE (Nihombashi Mitsukoshi Main Store / Tokyo)
2016 Bijin-ga(Bergamot Station ARTS CENTER / U.S.A.)
2017 Power of Art (Isetan Shinjuku Store / Tokyo)
2017 Bijin-ga Commemorative Exhibition (Gallery Art Morimoto / Tokyo)
2017 Power of Art 発表展 (Isetan Shinjuku Store / Tokyo)
2017 Young Artist Whirlwind Art Art Art (Matsuzakaya Nagoya / Aichi)
2017 Let's go by art (Isetan Urawa Store / Saitama)
2017 Toru Horiguchi vs Beniko Choji "Point" (Ginza Modern Art / Tokyo)
2017 Art Square Taipei (The Grand Hotel / Taipei)
2017 美しき女 絵画展 (Tokyu Department store / Shibuya)
2018 Power of Art Petite! (Isetan Shinjuku Store / Tokyo)
2018 Neo Japonisme Résonances (Ferme des Arts / France)
2018 Power of Art Selection Exhibition (Isetan Shinjuku Store / Tokyo)
2018 Girl with a Pearl Earring Johannes Vermeer tribute (MDP GALLERY / Tokyo)
2018 KYOTO (Ikebukuro PARCO / Tokyo)
​2019 Power of Art (Isetan Shinjuku Store / Tokyo)
2019 "All kind of Bijin-ga 2nd" A book launch Exhibition (Gallery Art Morimoto / Tokyo)
2019 Tsukiko Nakamura×Beniko Choji Collaboration Art "Benitsuki" (GUM Omotesando / Tokyo)
2019 時代を彩る女神たち (Tobu Department Store Ikebukuro / Tokyo)
2019 Arao Yokogi×Beniko Choji Collaboration Exhibition (Galerie Lã / Tokyo)
2019 OSAKA ART FES (Hanshin Umeda Main Store / Osaka)
2020 Hankyu×Art Collectors New Star Art Exhibition (Hankyu Umeda Main Store / Osaka)
Art Fair
2019 Art Beijing
2019 Art Fair Tokyo (Tokyo International Forum)
Awards
2010  Japan Modern Naive Art Society Exhibition Excellence Award
2011  Japan Modern Naive Art Society Exhibition Selected
2012  Japan Modern Naive Art Society Exhibition Japan Modern Naive Art Award
2013  Japan Modern Naive Art Society Exhibition Ueno Royal Museum Award
2014  Japan Modern Naive Art Society Exhibition The 40th Memorial Award
2014  The 31st FUKUI Thumb hole Art Exhibition Selected
2014  Shizen Ten Art Exhibition at Ueno Royal Museum
2015  Next Art Exhibition Selected
Book design
2017 桐野夏生著「顔に降りかかる雨」(新装版 / 講談社文庫)
2017 桐野夏生著「天使に見捨てられた夜」(新装版 / 講談社文庫)
2017 桐野夏生著「ローズガーデン」(新装版 / 講談社文庫)
2017 桐野夏生著「DARK」(講談社文庫)
2017 朱川湊人著「月蝕楽園」(文庫版 / 双葉社)
2019 山口恵以子著「風待心中」(文庫版 / PHP文庫)
Collection
2016 「現代画家が描く美と幻想の世界 妖しく美しい女性たち」(綜合ムック / 綜合図書)
2016 池永康晟監修「美人画づくし」(芸術新聞社)
2017 それでも尚、未来に媚びる 2nd Mini Album「四季、式として」ジャケット
2008 Tsukiko Nakamura Main Visual
2018 明日の叙景 1st Album「わたしと私だったもの」ジャケット
2018 Glasses bland "VioRou" Brand Visuals
2018 「日本画家が描く美人画の世界」(辰巳ムック / 辰巳出版)
2019 fashion brand "0658"
2019 3rd collection「Black noise effect」作品コラボ
2019 4th collection「表裏のエラッタ」作品コラボ
2019 a crowd of rebellion Albums "BLACK_:24" ":12_White"
2019 池永康晟監修「美人画づくし弐」(芸術新聞社)
ONBEAT vol.12 features Beniko Choji