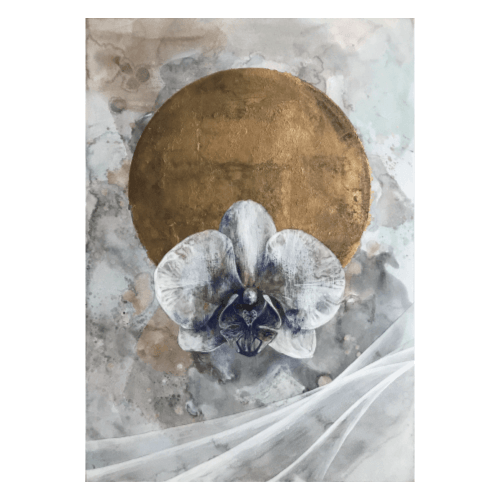 ・51.5×36.5cm
・Art cloth, Iwa-enogu, India ink, Gofun
・2019
I spent a long time studying to see or to observe an object.
I was amazed by the beauty of color and shape that natural materials make, and so I went on to the Department of Japanese paintings.
In the university, I mastered a technique in Japanese paintings using Japanese paper, a Sumi or Japanese ink, mineral paints, and glue.
In Europe, I learned the beauty of architecture mastering the importance of concepts and expressions that is well ahead of time.
Based on my experiences, I am challenging in making further new expressions.
I am using not only a flat surface in my work but also various materials such as solids using clay and wax and pictures.
I would be happy if there would be people who are moved seeing my work.
Natsuko Iwasaki
Born in Kanagawa. Graduated from Tama Art University of painting in 2012.
Selected as a scholarship student of the Mitsubishi Corporation Art Gate Program in 2012, and 22nd scholarship student of Sato International Cultural Scholarship Foundation.
Went to Universität der Künste Berlin as an exchange student in 2013.
Completed Master's Degree Program in Painting at Tama Art University, Graduate School in 2014.
Held solo exhibitions at Tokyo International Forum in 2015, Nihombashi Mitsukoshi Main store in 2016.
Accepted for ART AWARD NEXTⅢ in 2015. Particippated to various group exhibitions including "Co-CoRe Art&Design International review 2013" at Silpakorn University, "recommend2019-Next generation Artists-" at Silkland Gallery.

Works