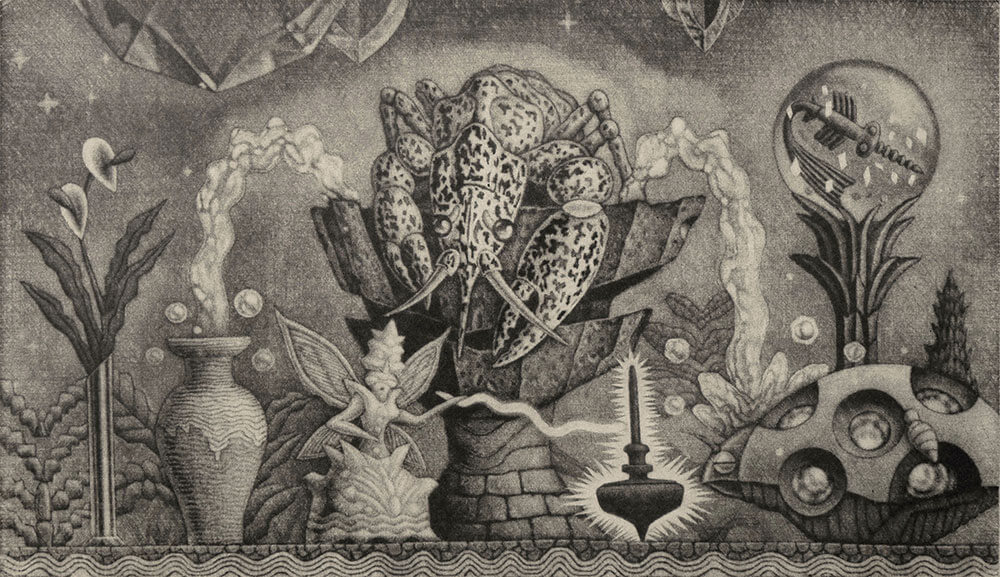 ・39.4×50.9cm (w/ frame)
・Copperplate engraving (Mezzotint)
・2017
・¥26,000+tax (w/ frame)
From childhood, the world of pictures and stories was close to me, and I picked up and drew only those things that I liked and pleased me.
Before I knew it, my sketchbook contained more and more fragments of marvelous creatures, weird objects, and fictitious plants, inhabiting a world that I myself had never foreseen.
My works pair matière with depth unique to copperplate engraving and monochrome prints imbued with warmth and moisture.
I feel that this combination better enables dialogue with viewers at a comfortable distance.
I strive to shed light on the landscapes sought by the depths of my soul as I continue making engravings on my desk, day after day.
In my works, I aim to create space for relaxing or exciting the mind while freely fantasizing.
Hiroya Satake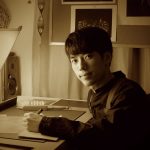 Born in Kanagawa in 1985.
Tokyo University of the Arts and Music, M.A, Printmaking Department in 2014.
Held solo exhibitions at Shinseido Gallery / Tokyo in 2009, 2012, Gallery Tomura / Tokyo in 2018.
Participated to various group exhibitions and art fairs including "19th Doumu Print Art Exhibition" at Shirota Gallery / Tokyo, "International Mezzotint Festival" at Yekaterinburg Museum / Russian in 2019, "From Studio-What Art can do now," "Geidai Cat Exhibition" at Geidai Art Plaza / Tokyo, "little monster" at Shinobazu Gallery / Tokyo, "Art Fair Tokyo" in 2020.
Designed the CD Jacket of "Namu Odori."
WEB twitter Instagram facebook Youtube
Works