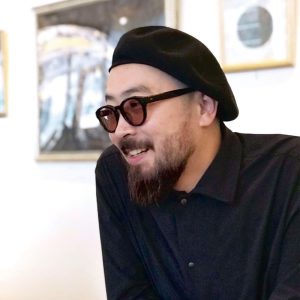 Born in Aichi in 1987.
M.A. Fashion Design Course, Istituto Marangoni, London in 2010.
After working at TAKEO KIKUCHI as a fashion designer for four years, be independent as artist from 2016.
Held numerous solo exhibitions including at Kiriko the Museum / Tokyo, at Ellipse Tokyo in 2019, at Gallery 201 in Tokyo, at eplus Living Room Cafe & Dinning / Tokyo in 2020.
Participated to various group exhibitions and art fairs including "Homage" at Sansiao Gallery / Hong Kong in 2018, "Art Taipei" in Taiwan in 2019, "artTNZ" at Terrada Art ComplexⅡ / Tokyo in 2020.
Works
My works all incorporate fragments of myself projected into my subconscious mind, reconstructed into a visual language using the motifs of flowers and animals under the concept of a "beautiful foodchain."
I depict the beauty of nature's providence while simultaneously expressing opposing themes in a single work, like beauty and ugliness, love and hate, or life and death.
My mode of expression has changed in the past few years from detailed renderings composed only of calculated lines to works incorporating the theme of "chance."
Specifically, I see outlines in the random unevenness generated by sumi ink bleedings and acrylic paint mixings and build these into animals and flowers.
The works presented here were done in that method.
I am now actively showing works in Japanese and overseas venues, including solo and group exhibitions and art fairs.
PROFILE
1987 Born in Aichi
2010 M.A. Fashion Design Course, Istituto Marangoni, London
Solo Exhibition
2019 Solo Exhibition (Kiriko the Museum / Tokyo)
2019 Solo Exhibition (Ellipse Tokyo)
2019 Art Unit "yueru" Solo Exhibition (On The Origin Of Art / Tokyo)
2020 Solo Exhibition (Gallery 201 / Tokyo)
2020 Solo Exhibition (eplus Living Room Cafe & Dinning / Tokyo)
Group Exhibition
2018 Homage (Sansiao Gallery / Hong Kong)
2019 おふろ荘始めました展 (おふろ荘 / Kanagawa)
2020 New Year selection (On The Origin Of Art / Tokyo)
Art Fair
2019 Art Taipei (Taiwan)
2020 artTNZ(Terrada Art ComplexⅡ / Tokyo)
Collaboration
・FANO「恩返紙project(バンダナ&CAMINO扇子)」
・Nobuyuki Matsui 18S/S
・5351 POUR LES HOMMES
・Nehanne MIHARA YASUHIRO 17S/S Collection
・Fall Vol.13 "Regal Paper" (front cover)
・大人の塗り絵シリーズ『花と生きもの 美しく繊細な塗り絵 Colourful Black』(Kawade Shobo Shinsha)
ONBEAT vol.13 features Yuta Okuda