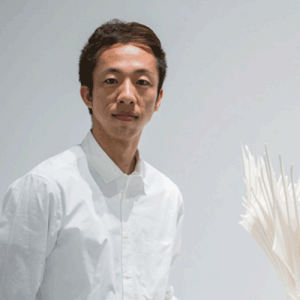 Born in Ishikawa in 1989.
The eldest son of Toshio Ohi Chozaemon Ⅺ.
Graduated from Tajimi City Pottery Design and Technical Center in 2016.
Graduated at the top of his class from Tokyo University of the Arts and Music, M.A, Architecture in 2017.
Participated in group exhibitions and art fairs including "SOFA CHICAGO" in U.S.A., "Design Miami / Basel" in Swiss, "TEFAF Maastricht" in Netherlands, "COLLECT" in England, "ART TAIPEI" in Taiwan, "Art Central" in Hong Kong, "Art Fair Tokyo."
His work is owned by Nezu Museum / Tokyo, 21st Century Museum of Contemporary Art, Kanazawa / Ishikawa.
WEB Instagram Breakzenya YouTube
Works
When I think of things, I always think about "boudaries" around them.
Architecture and Ceramics, Digital and Analog, Inside and Outside, Artifical and Nature, Chaos and Order Hence, it is not something you can clearly differentiate, like 0 and 1 in digital code, like black and white.
Rather, an infinity of degrees actually exist between 0 and 1, and an infinite grading of shades exist between black and white. A boundary is not a simple line.
Something we could describe as a "fuzzy boundary" can also exist.
Once I stop to separate everything by one line, looking through this perspective; arises many silently hidden places.
Wondering through the center of the infinite, suffering and strugging - I strive to look for my own place.
This open minded adventure much like own life, is incredibly enjoyable.
PROFILE
1989 Born in Ishikawa
2016 Graduated from Tajimi City Pottery Design and Technical Center
2017 Graduated at the top of his class from Tokyo University of the Arts and Music, M.A, Architecture
Group exhibition
2015 6th Kikuchi Biennnale (Musée Tomo / Tokyo)
2016 MINO Ceramic Art Museum (Mino Ceramic Art Museum / Gifu)
2016 MITSUKOSHI Department store (Nihombashi Mitsukoshi Main Store / Tokyo)
2016 SOFA (U.S.A.)
2017 COLLECT (Saatchi Gallery / London)
2017 TEFAF Maastricht (MECC Maastricht / Netherlands)
2017 Art Fair TOKYO
2017 Design Miami / Art Basel(Messe Basel / Switzerland)
2017 ASIA NOW (Les Salons Hoche / Paris)
2017 New Porcelain (Contemporary Art  Sokyo Gallery / Kyoto)
2017 KOGEI Art Fair Kanazawa (KUMU Kanazawa -THE SHARE HOTELS- / Ishikawa)
2018 Les Promesses du Feu (Pierre-Yves Caër Gallery / Paris)
2018 Art Fair Tokyo
2018 Asia Contemporary Art Show (Conrad Hong kong)
2018 Art Taipei
Awards
2009 Tokyo University Of Arts, ATAKA Award
2011 13thShelter Internatinal Architectual Design Competition, Encouragement Prize
2013 NIIGATA Office Art Street, Grand Prize
2016 Tajimi City Pottery Design and Technical Center, Grand Prize
2017 Tokyo University Of Arts, Isoya Yoshida Award
2017 3th Triennale of KOGEI in Kanazawa 2017, KOGEI World Competition in KANAZAWA,Specail Recognition Award by YUJI AKIMOTO
Collection
Dallas Rolex Tower (Texas, USA )
Nezu Museum (Tokyo, Japan )
Media
Forbes
GQ JAPAN
marie claire
ONBEAT vol.12 features Yuki Nara