Born in Tokyo in 1963, Yamaguchi earned his B.A. at Rikkyo (St. Paul's) University.
After working for an advertising agency, he began his work at Christie's in 1992 as a specialist of Japanese and Asian art.
His business successes during his 19 years overseas includethe sale of a highly important statue of the Dainichi Nyorai in 2008, the Fujita Museum sale in 2017, and the Price Collection sale in 2019.
He is currently the Managing Director of Christie's Japan, as well as guest professor for Kyoto University of Art and Design, and Director for the International Ukiyo-e Society.
He is an author and translator of many books and has also made many TV appearances including NHK's The Professionals.
ONBEAT vol.12 features Katsura Yamaguchi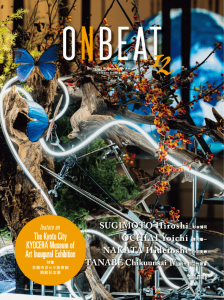 interview Katsura Yamaguchi
・As an auction specialist, What do you think is the secret to making a sale a success?
・What is the value of Japanese art? What is needed to make more appealing to the wolrd?
・And his new initiatives as the managing director at Christie's Japan?