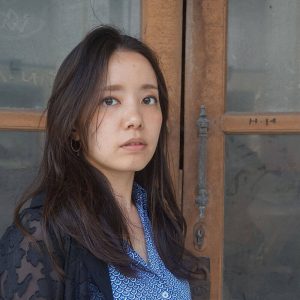 Born in Fukuoka in 1987.
Completed Master's Degree Program in Saga University (Graduate School of Education) in 2011.
Held solo exhibitions "To Connect for Not to Break" at Gallery Art Morimoto / Tokyo in 2014, "Gaze into the Abyss" at Gallery Art Morimoto / Tokyo in 2017, "Little Bit of Distortion and Happiness" at Gallery Art Morimoto / Tokyo, "Japan Art Center 9th Art Grandprix, Award-Winning Artist, Hiroko Maki" at Japan Art Forum / Hyogo in 2019.
Participated to numerous group exhibitions.
Won many prizes including Bonny Col Art Prize at the 5th Galeria Reino Grand Prize Exhibition in 2011, 35th Ueno Royal Museum Grand Prize Exhibition in 2017.
WEB twitter Instagram facebook
Works
I paint oil paintings now, but previously I depicted women and the accompanying plants and animals in various media, including prints and watercolors.
The woman living with all her might amidst her personal troubles in difficult times, who wants to be beautiful but is faced with her own inner foolishness and folly, sighs at the fact that being beautiful is not enough.
The woman who, even still, keeps on living, believing there will be something to link to the next generation.
My goal is to paint this woman from a slightly removed perspective, and with love.
As an artist living in this age, I cannot escape the impact of the coronavirus.
In an even more chaotic social situation, the continued reassessing of our previous lifestyles and correct paths forward is becomes inevitable.
I want to continue making art from the perspective of reexamining the nature of humanity.
PROFILE
1987 Born in Fukuoka
2011 Completed Master's Degree Program in Saga University (Graduate School of Education)
Solo exhibition
2014 To Connect for Not to Break (Gallery Art Morimoto / Tokyo)
2017 Gaze into the Abyss (Gallery Art Morimoto / Tokyo)
2019 Little Bit of Distortion and Happiness (Gallery Art Morimoto / Tokyo)
2019 Japan Art Center 9th Art Grandprix, Award-Winning Artist, Hiroko Maki (Japan Art Forum / Hyogo)
Group Exhibition
2009 Shin Shin (Gallery Nike / Tokyo)
2010 11th Japan -Korea exchange Art Exhibition (G-gallery / Korea)
2010 2th Shin Shin (Gallery Nike / Tokyo)
2010 Each of the three being different from the other two (Gallery Nike / Tokyo)
2011 Christmas Art Festival 2011 (Sagamiya Fine Arts and Antiques / Tokyo)
2011 Real (Gallery Art Morimoto / Tokyo)
2012 Shibuya Art Show (Seibu Shibuya / Tokyo)
2012 GARONOYAKAI2012 (Sagamiya Fine Arts and Antiques / Tokyo)
2013 Real (Gallery Art Morimoto / Tokyo)
2013 Yamamoto Fuyuhiko SelectionⅡ (Gallery Echo-ann / Tokyo)
2013 YUREIGA (Gallery Kunimatsu / Tokyo)
2013 ISHIZUE (Gallery Art Morimoto / Tokyo)
2014 Real (Gallery Art Morimoto / Tokyo)
2014 HIDATOKAGAMI (Gallery Oishi / Fukuoka)
2014 FUKASHIGINAYU-GI (Span Art Gallery / Tokyo)
2014 YUREIGAⅡ (Gallery Kunimatsu / Tokyo)
2014 ISHIZUE (Gallery Art Morimoto  / Tokyo)
2014 ISHIZUE (Gallery Sakamoto / Fukuoka)
2015 Summer Show (Gallery Art Morimoto / Tokyo)
2015 ISHIZUE (Gallery Art Morimoto  / Tokyo)
2016 self‐portrait (Gallery ARK / Kanagawa)
2016 Art Fair Asia Fukuoka
2016 FINE ART / UNIVERSITY SELECTION 2016-2017 (Tsukuba Museum of Art, Ibaraki)
2017 -ORIGIN- (Gallery Suchi / Tokyo)
2017 ISHIZUE (Gallery Art Morimoto   /Tokyo)
2017 Wagahai no neko (The Sato Museum of Art / Tokyo)
2017 Cat of Art (Gallery Art Morimoto / Tokyo)
2018 ISHIZUE (Gallery Art Morimoto   /Tokyo)
2018 S-YOU-GA (The Saga University Art Museum)
2019 -ORIGIN2- (Gallery suchi / Tokyo)
2020 Mitsukoshi Special Art Selection (Nihombashi Mitsukoshi Main Store / Tokyo)
Award
2009 5th World Art Grand Prize
2010 78th Japan Print Association Grand Prize
2010 7th Onojyo Madokapia Print Biennial
2011 5th Galeria Reino Grand Prize, Bonny Col Art Prize
2017 35th Ueno Royal Museum Grand Prize Exhibition
ONBEAT vol.13 features Hiroko Maki