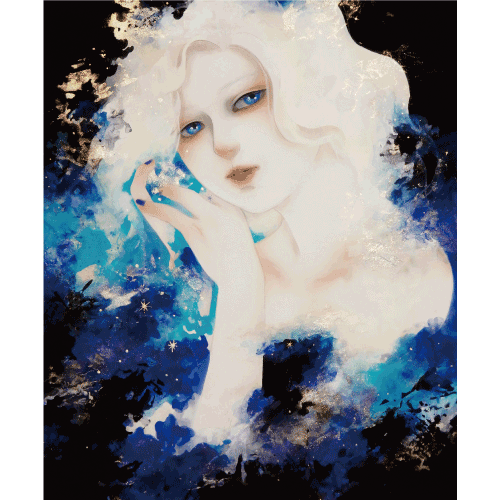 ・45.5×38.0cm
・Polyester canvas, Suihi-enogu, Iwa-enogu, Modeling paste
・2020
My works are an attempt to blend a fine arts sensibility with decorativeness.
The women that I depict are meant to reflect the style of anthropomorphizing abstract phenomena in Japanese and Greek myth.
This practice has been a part of polytheistic faiths from ancient times, and I feel that it naturally infuses modern Japan as well.
I am exploring this long-lasting practice because it can transform the abstract elements in my own heart into art that is universal to everyone.
Also, the coloring from natural pigments unique to nihonga produces many different kinds of effects when applied to the materials.
I want to continue fusing these elements of decorative beauty and fine arts conceptualization, and continue producing in a new style within the tradition of "bijin-ga."
Mitsuko Kuroki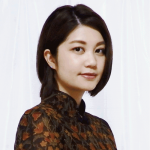 Born in Tokyo in 1991.
Tama Art University, Graduate School of Art and Design, MFA, Painting in 2016.
Held numerous solo exhibitions including "Japanese Painting Exhibition -Beyond the Illusory Aounabara-" at Artglorieux GALLERY OF TOKYO in 2019, "Japanese painting Exhibition -Between the night and day-" at Kintetsu Department Store Main Store Abeno Harukas / Osaka in 2019.
Participated to various group exhibitions including "Mitsuko Kuroki and Choji Beniko" exhibitions at Hakkendo Gallery / Tokyo in 2019, "All kind of Bijin-ga, Reiwa" exhibition at Takashimaya Yokohama / Kanagawa in 2020, "Artglorieux Selection 2020" at Artglorieux GALLERY OF TOKYO.
Works