・2.1×3.5×2.2cm
・Boxwood, Crystal, Persimmon juice
・2019
With the motif of "Kyu – Jyu", – mysterious imaginary creatures emphasizing its roundness, I express the power and preciousness of life by wood carving.
I happened to meet Netsuke in an antique market, and I was fascinated by its rounded shape and the passion of wood carving.
I started carving wood by myself when I was in university.
Not having a fixed size and maintaining the round shape that I'm fascinated, I create various kinds of work that vary in size from small to large.
In my personal exhibition in Tokyo and in some exhibits in department stores, I present wood carvings "Kyu-Jyu", where you can see the animal's lovely expressions and movements in this tiny rounded wood.
To make a sculpture that will surely fascinate people, I carefully carve every part of them so that you can enjoy it from all angles.
I hope you to feel the gentleness of the creatures' world through the warmth of wood.
Arisa Oguro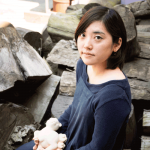 Born in Tokyo in 1990.
Graduated from the departments of sculpture, College of Art and Design, Musashino Art University.
Held many solo exhibitions including "Ball and beast"at Ginza Mitsukoshi ∞Gallery, Tokyo in 2015, "Ball beasts days"at Nihombashi Mitsukoshi Art square, Tokyo in 2017, "YO/RI/DO/KO/RO"at Hanshin Art gallery, Osaka in 2019, "NIGITAMA Ball spiritual beasts"at Osaka Takashimaya gallery NEXT, Osaka in 2019.
Participated in many selected exhibitions including "Crafts to Fusion"(Osaka Takashimaya, Ginza WAKO), "Nihombashi Mitsukoshi next-generation 100 selection exhibition-HOPE-"
Works